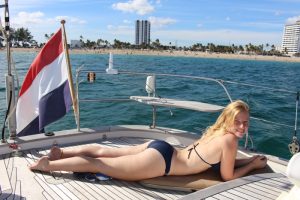 It was an unusually cold week until Friday. People told us that it hasn't been this cold for 10 years. Some Brazilian students of my English class put on really heavy winter clothing with two pairs of pants and a turtleneck sweather. They are not used to the cold at all. For us it is not a problem, but to be honest, we have gotten quite used to the warm Florida winter weather, so even for us it felt uncomfortably cold. We stayed inside most of the time, turned on the heat instead of the air-conditioning, used blankets on our beds and wore wintercoats in the early morning and evening. Luckily the temperatures are back to 'normal' this weekend, so we have spent most of our time outside, on the boat on Saturday and in our backyard on Sunday 🌴👍.
Writing this blog in English is challenging but a good thing to do! It motivates us to really learn to write correct English. Teunis helps us with the editing, that is 'part of the deal' we made last weekend. For us, a good way to learn about the typical Dutch mistakes we make. Mostly the incorrect use of the tense of verbs, and the incorrect order of words in a sentence. Too much a direct translation from Dutch. The editing is an extra step in posting the blog, therefor the blog is posted 1-2 days later than you are used to. Until we feel comfortable enough to do it without the editing 😉.
Eline had another week at High School with some interesting experiences. She meets more students with varying backgrounds than in Tilburg. Also more variety in race and in social background. There is a boy in one of her classes who cannot afford to eat breakfast and take lunch to school. School offers free breakfast in these cases. Eline sometimes shares her lunch with him.
Another experience was … they had a discussion in class whether it is OK for parents to spank their children. Eline is really surprised that the teacher and most of the students agreed that it is. It even seems to be lawful in the state of Florida, as long as 'the bruises' are gone after 20 min 😥. Probably derived from the strong Christian belief that to be corrective in a somewhat straight and harsh way is a good habit??
Something else she discovered is that you do not openly discuss politics. Teachers forbid students to talk about politics in class. Only when you are absolutely sure that everybody in the group thinks the same, like in my English class, do people dare to talk politics. So mostly the discussion is simply avoided.
She really enjoys being part of the swim team. She likes the tough practices (between 4 and 6.30 pm) and proudly wears the t-shirt 'I'm on the swim team of Boca'. On Wednesday she attended a bowling party of the swim team. On Friday she went for a drink with a friend after school. A nice guy ('just a friend mom') who brought her home after the drink.
Marinthe is almost back to her normal schedule at the tennisschool. Only the afternoon tennis was 1 hour (instead of 2) on the 'hospital court' with 5 other girls who also have some kind of injury. She didn't feel any pain anymore. That is very good news! Next week she will go back to the full schedule with 4 hours of tennis including 2 hours of match play in the afternoon.
For her 'Wereldschool', she took the first tests for both courses. For chemistry she did well (7.3), for physics we don't know yet.
Mira was rather busy with website design, including the rebuild of this website in WordPress. It is almost finished, so maybe next week you will get a notice about the transition.
Also for Toine the usual work with a lot of phone calls with business relations. One of these contacts might result in a meeting in California next week.
On Tuesday Toine bought a nice American Christmas tree, nicely cut in a triangle tree shape. Like everybody else he brought it home tied to the roof of his car. We decorated the tree with lights and lots of decorations we got from Harrie. Thank you again Harrie, we are really happy with the result!
In the weekend the warm weather returned ☀. On Saturday we went sailing to Fort Lauderdale. It felt good to be on the boat again. As more often, we adjusted our plans of the fly. We originally planned to be away the whole weekend, but later on we decided to go back the same day. The not-so-expensive marina in Fort Lauderdale was full, the very expensive one is 3.5 dollar per foot. Not worth paying for in our opinion.
The autopilot worked very well and the new batteries are great! It is no problem to discharge them 50% (we only discharged our old batteries to 75%) and the charging is more efficient and therefor much faster.
On the way to Fort Lauderdale we sailed on the ocean, motoring along the coast with little wind and a flat sea. So flat that we dropped anchor on the ocean close to a nice beach. The largest spot we ever anchored … the whole Atlantic Ocean 😉.  After relaxing, swimming and sunbathing for a few hours we went back home via the ICW.  A nice and easy stretch between Fort Lauderdale and 'home' with 7 bridges who's openings are synchronized so that with a speed of 7 knots one hardly has to wait.
There are lots of exclusive homes to see on both sides of the ICW (Jackie always calls this route the real-estate tour 😉). The last hour we sailed in the dark and saw all nicely decorated houses and palm trees, they seem to be popular to decorate!
We ended the day with a nice, very tasty (but a bit noisy) dinner at Benihana's (a Japanese teppanyaki restaurant). Since we had looked forward to sleeping on the boat, Toine and I decided to sleep on it in our 'own private marina'. The girls preferred their beds in the house.
Sunday was a nice day with lots of small activities. Marinthe did her physics test. Eline went to the beach for a beach cleaning event of school. By now, she has earned all the social services credits she needs for graduation. As a family we enjoy this way of living; we could get used to this 😉.