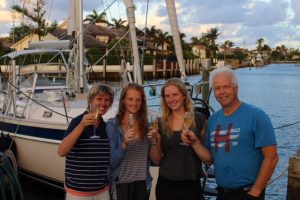 We are back in school rhythm now Marinthe is in the program of the tennis school for the full week and Eline has been in Boca Raton High School since Wednesday. Every day the alarm clock is set at 7.00 a.m. and we get into the car at 8.00 a.m. Eline is ready every day at 3.20 p.m. and Marinthe at 5.00 p.m. The end of this first school week on Friday evening we find for the first time a really good champagne moment 🥂🥂 !!! Especially now we know that Eline is at a nice school with three good first days and Marinthe is admitted to the tennis school after the first evaluation week.
Hardly anybody goes to school here by bike. You either go by school bus, or you are brought or picked up, or you drive your own car. In our case, for the time being this is Toine and/or Mira's. We drive to Eline's school (which starts at 8.30 a.m.) in about 20 minutes and then another 20 minutes further to Marinthe tennis school (which starts at 9.00 a.m.) So good timing. As long as Eline isn't doing any sports after school, she will be out at 3.20 p.m. Then we first pick her up and drive back to the tennis school to pick up Marinthe. The direct route from home to the tennis school is 25 minutes. By American standards, this is very easy to do and we think so too!
Eline goes to school in a very positive way and with an open mind. It's very clever how she does that without knowing anyone, so she makes quite a few contacts during the first few days, so she will be fine! Americans are also a bit more open to newcomers than we are used to in the Netherlands. Especially the first contact is very easy here.
Together with the school we put together a subject package that enables her to get a High School diploma at the end of the year. She gets credits for the last three school years in the Netherlands and on that basis they determine which subjects she still misses.
She follows the following 7 courses every day:
English - general paper
Classical/Think Skills
Advanced Chemistry
US History
Economics/American Government Honors
Photography
Advanced Math Statistics
That High School diploma is of a somewhat lower level than the VWO diploma, but that doesn't matter and it's sure to look good on her CV without costing her a lot of effort. The two most difficult subjects are US History and Economics/American Government, but that's also logical because she doesn't have them in her package in the Netherlands.
Marinthe also goes to tennis school very positively and with an open mind. She follows the full programme for a week and that's pretty spicy. Suddenly from two months of hardly any sports to five hours of sports a day. She really enjoys it and gets through the week very well. We have an evaluation interview on Friday morning with positive news. 'She is athletic, with a good mentality, good coaching and has a great technique'. She also fits well in the group with a lot of girls her age. So she can stay. Super, we are very happy with that!
She follows the following program every day:
9.00 - warming up
9.15 - group lessons with 2, 3 or 4 girls on a track with all kinds of strokes practice
10.15 - individual lesson with own coach
11.15 - fitness
12.00 - lunch
12.30 - school - Marinthe will do two 5 VWO subjects of the Wereldschool.
14.45 - warming up
15.00 - 17.00 - playing matches, usually a single and sometimes a double
It is a very nice tennis school. There is a pleasant family atmosphere and there is a lot of attention for fun and socializing with each other. Also next to tennis on weekends, with movies etc. Not cheap, but it is a unique opportunity to see how much she likes to play tennis and what level she can achieve with it.
Yes, and what do we do all day now that the girls are under the roof? We're going to experience that in the coming period. We're still busy the first half of the week to get everything done for Eline's school. We've lost time bringing and picking up anyway. It's also very nice to stay a bit longer at the tennis school after bringing it or picking it up a bit earlier. There's a lot of nice tennis to see, several parents (mostly mothers) do that, and that brings nice contacts. Next week there's an ITF (international youth) tournament and then it's really nice to spend some more hours there. You can have a good look from the large balcony on the first floor.
Toine regularly works from his own company and is busy planning and preparing assignments for the coming period. In addition, he works on the boat, which is his big hobby and is now very easy to do without having to drive back and forth to Zeeland for more than an hour. He lays all the lines well with a fixed length so that we can easily get away with the boat. He also cleans all the pantries and rinses off the sails with fresh water. And now on Sundays he does a lot of other jobs such as lubricating the boom, securing the lower bracket, replacing the masthead light and deck light, etc. It feels such a luxury with the boat in the backyard. Going sailing has not yet come of it, but I'm sure it will be possible somewhere in the coming weekends.
Mira goes running three times a week to train for the 5 km race on Sunday morning. And how wonderful it is to dive into the pool after walking. Good for muscle recovery. In addition, of course I spend some time cleaning, washing, shopping and cooking. Here too I use Hello Fresh, but by picking recipes on the internet on the American site and buying the ingredients myself. We've eaten a few times already. Besides that I have a lot of things to do on the computer and so I get through the days fine for now.
We regularly sit outside in the evening too. Those are also the moments when we talk to the neighbours. Oscar and Maggy often sit outside with a glass of wine and some nice music. Exactly our taste, so we enjoy that. Steve and Lisa have an indoor TV room outside and they are happy that their swimming pool is finally finished and they show it to us.
Tuesday is Halloween. A lot of houses are decorated and in the evening there are a lot of kids walking around picking up candy (Trick or Treat). There are also a lot of adults outside on the street waiting for the kids. We are totally tired of arranging the school for Eline and keep it busy when children ring the doorbell handing out candy. About 10 groups of kids come along. Eline goes with the neighbors to the home-coming football game of neighbor boy Hunter. After that she is taken out to dinner.
Saturday we go to the annual boatshow in Fort Lauderdale. The biggest in the world but only for motorboats. Nice to have a look around and take the watertaxi around. What huge boats and what a wealth. By the way, the houses on the waterfront are also huge and of the 'rich of the earth'. Marinthe is very tired from playing tennis all week, it's crowded and it's very hot, so we quickly stop it and go home on our own terrace on the water, swimming and having a drink.
This morning we got up very early (5:15 am) for the running race. It starts at 6:35 am at Spanish River Park in Boca Raton. The clock was set back an hour last night, so it's actually an hour later 😉 . Eline and Mira are both competing in the 5 km and with so little traning they are doing above expectation. Eline takes 29 minutes and becomes first in her age group. Mira runs 33 minutes and becomes third in her age group. A lot of fun to do and it tastes like more. The rest of the day we mess around at home. We buy school supplies for Eline and for the rest we hang around the pool.
Beforehand we had a certain image of what it is like to live here, in Florida and in this house. After two weeks all four of us think that reality surpasses our image. It's really great living here with the lovely warm weather and the boat in the backyard. Thanks again Teun, Jack and Jackie for the tip!
Tonight Toine will take the train to Miami and fly from there via Madrid to the Netherlands for a couple of days. The three of us are going to experience a new week here!