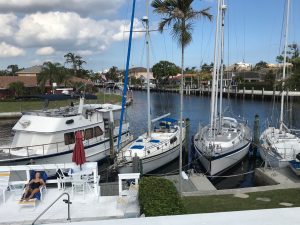 It is a busy week with lots of activities in the 'boatyard' behind our house. As of this week there are four boats docked. Jack has bought a nice DeFever motorboat and on Monday he brings it home from Ft Lauderdale. An impressive boat! Jack and Jackie stay until Thursdaynight cleaning it and moving all their stuff from sailboat to motorboat, while mechanics are around for maintenance on the engine and to install a new shore power connection. Toine helps moving the boats around so that all four boats fit at our private dock.
It is quite a job undoing and reconnecting all the lines. Due to the hurricane season each boat has some 12 lines to the poles. The only boat which is not moved is our boat. Remarkable how all four boats fit. It feels like being the 'temporary owner' of a small private marina. Every morning and night, Toine checks all the boats.
The neighbors to our left have a new boat as well … a very fast powerboat with 4 times 400pk engines. They bring it home from Naples in 5 hours, which is incredibly fast. And use a few gallons of gas 😂. On Saturday Eline is invited to go for a ride with Steve and the two sons. Quite an experience.
Nice to have J&J around. Jack and Toine both like working together in the 'boatyard'. And Jackie and I enjoy walking to the beach in the afternoons in a rather fast tempo. Good for our daily exercise! All four nights we have dinner together, taking turns in preparing it.
The evenings are nice and warm making it appealing to be outside with a drink and all the Christmas lights around us. One night we are invited by the neighbors for a drink accompanied by four other interesting and wealthy guests who are in real-estate and mortgages.
All four of us have a busy last week before Christmas, probably just like all of you have.
Toine finishes his paper about IT transformation with the help of Mira's English teacher as an editor. They have a very nice meeting to discuss the improvements she makes. On Wednesday he flies to San Fransisco for a business meeting with a former business collegae who now runs a successful IT company. This gives him a lot of inspiration how to proceed with his proposition for his own company. A short but very productive visit!
Marinthe has a full week at the Tennis Academy. She joins the full program without experiencing any pain. Also the match playing in the afternoon goes really well. The last two days with only a small group of kids, as most have already left to go home for Christmas. She starts to win games from a few Evert tennisschool kids, which is impressive!
Eline has her midterm exams which is like a CT week at home. She passes the photoshop-exam for her photography class with the exact amount of points she needs. Well done! On Wednesday she has a cookie-decorating party with the swim team. The older kids help the younger kids with decorating cookies. The perfect job for Eline, dressed in bathing suit and a Christmas hat. On Friday she is off from school and enjoys swimming in our own pool, practicing the butterfly stroke.
My English lessons are a bit disorderly this week. All the Brazilian students are looking forward to the Christmas break. One day, we have a Santa Claus game with exchanging presents and eating the food everybody brings. This week I am also busy making final touches to the website for the Hallberg-Rassy Connectie.
On Saturday we do the shopping for the Christmas dinner. Mira and Eline buy the food and Toine buys the wine, after some extensive tasting in the Fresh Market 😋. We will celebrate Christmas and New Years Eve together with my sister Inge, Mark and their kids. They will arrive tonight (Sunday) and stay until January 3rd. We are very much looking forward to having them here!
For us Christmas is a time to spend with family. Very special to be with at least part of our family while far away from home. For the rest of the family in the Netherlands …. we will definitely miss the traditional Christmas dinner, we will do that again next year!
To everybody …. Happy Holidays, Merry Christmas and a Happy New Year !!!
With lots of warm moments with your families !!!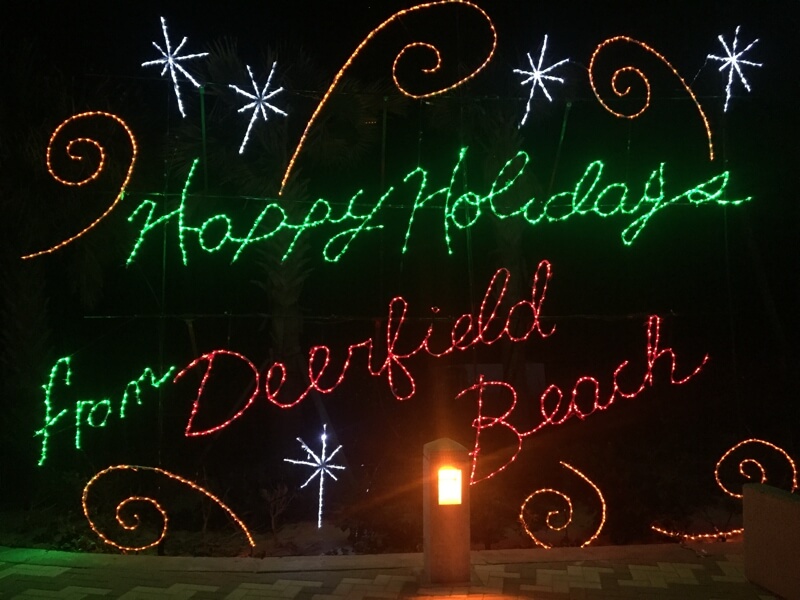 (This picture is taken at the boulevard of Deerfield Beach)